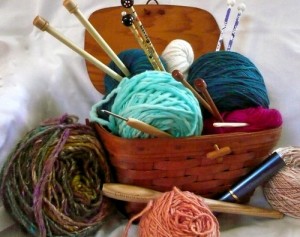 Mimi's Needle Basket  carries lots of great things, such as ChaiGoo interchangeable needle sets, Wool Tree Mill lucets — and Fix-A-Stitch, of course!
They recently shared with us Mimi's fall fiber fest schedule:
October 4-5  Yarnosphere – Expo Arts Center at Bixby Knolls, 4321 Atlantic Ave., Long Beach, CA
October 11-12  Vista Fiber Fiesta –  The Fiesta will take place at the Antique Gas & Steam Engine Museum, 2040 North Santa Fe Ave., Vista, CA.  Hours are 10 a.m. to 4 p.m. both Saturday and Sunday.
October 25  Ventura Harvest Festival – Where: Studio Channel Islands Art Center, 2222 Ventura Blvd., Old Town Camarillo When: Saturday, October 25, 2014 9 a.m. to 2 p.m. The festival will be on the grass, adjacent to Studio Channel Islands Art Center, and close to the very popular Camarillo Farmer's Market. There will be hand-made items, equipment and materials for sale, along with demonstrations of spinning, weaving and other fiber crafts.
November 2  Torrance Fiber Fest – Torrance Cultural Arts Center  Adjacent to 3341 Torrance Blvd., Torrance CA.  The entrance is from Madrona Avenue.  Free Parking, Admission $10 (cash only) includes 10 door prize tickets*  Show Schedule:  11:30 – Lunch service begins  12:00 – First Door Prize Drawing*  2:00 – Fashion Show  3:00 – Last Door Prize Drawing* followed by the Silent Auction
If you're in the area, we do encourage you to stop by and say hello! And if you're not in this neck of the woods, what fiber festivals are you looking forward to this year? Let us know, and we'll spread the word!