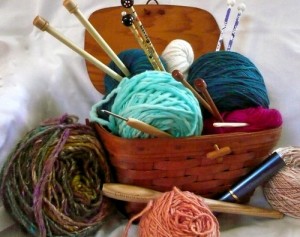 Mimi's Needle Basket  carries lots of great things, such as ChaiGoo interchangeable needle sets, Wool Tree Mill lucets — and Fix-A-Stitch, of course!
They recently shared with us Mimi's fall fiber fest schedule:
If you're in the area, we do encourage you to stop by and say hello! And if you're not in this neck of the woods, what fiber festivals are you looking forward to this year? Let us know, and we'll spread the word!
I was teaching my friend to knit recently when I noticed that she'd fallen victim to something that happens to us all now and again: the knitted in marker.
Notice how the black ring is THROUGH her knitting, not just on either side? Because this is her very first knitting project, we decided to leave in in place for now. If she restarts the scarf, it will fall out. If she finishes it … well, we'll either decorate it with beads or take the scissors to it.
In any event, she's off to a good career in knitting, learning early that "things happen"! Has it happened to you yet? Share in the comments below!
The short answer is NO. There is some crochet, but mostly I saw beautiful hand embroidery:
 I believe that yarn is inaccessible to the people there, and since it is quite warm, there is not much desire for knitted items in other than lightweight cottons.
Based on the tools that I saw in the fields — primitive by our standards  — if knitting were in practice, one assumes it would be accomplished on hand-carved needles. I'm curious to find out, however, if other knitters know differently. If so, please share with us!