We had a wonderful time at The National NeedleArts Association's Summer Trade Show in Indianapolis. Our new limited-edition keychain zipper bags, specially designed JUST for Fix-A-Stitch by Chic-a, were quite the hit! Not only do they keep your Fix-A-Stitch set safe and sound right on the strap of your favorite knitting bag, they're also handy to link onto your purse to hold mints, shopper loyalty cards, etc.
Supplies are limited, so ask your favorite local yarn shop to order some today! Retailers that are already carrying these darling bags in-shop (and in some cases, online) include:
With Santa Clara being practically in my back yard (well, an hour away, but that's California for you), I knew that my trusty camera and I had to stop by last weekend at the Hyatt Regency, where Stitches West was taking place.
As many of you remember, Fix-A-Stitch was first announced and demonstrated at the Adela's Yarn booth at Stitches 2011. In honor of that, I spent a few hours each day at Stitches West 2014, demonstrating Fix-A-Stitch to customers who stopped by the booth. One morning when I couldn't make it, Lily Chin did the demo for me using our lace weight Fix-A-Stitch (thanks, Lily!).
I was thrilled to see the Stitch Diva herself, Jennifer Hansen, and the always delightful StevenBe. Liz from Fine Points was there, too. There were just too many great shops and folks for me to count. I did so much oohing, ahhing and chatting that my photos were kept to a minimum! Still, here are three I thought I should share with you:
The Yarnover Truck team has such an interesting concept. They bring the yarn to you, whether you're in an area with no local yarn shop (LYS) or just want to have a "yarn tasting" party and/or knitting class with friends. It's a shop on wheels, really.
I hung out in the skacel collection booth for a while, where Marcy, left, and her sister Carma were such gracious hostesses. It's also always special when I have time to chat with skacel's Michelle Hunter, aka Knit Purl Hunter, maker of the most fantastic instructional online lessons for knitters.
Last but not least, my good friend Joanna Reyes (far right) brought her lovely daughter, Elise, to help out at the Chic-a  booth. Joanna and I have a fun announcement coming up later this spring — but for now, I'm sworn to secrecy.
So there you have it. I love when a yarn show is nearby without the hassle of packing and jet lag. All that notwithstanding, though, I'm looking forward to heading east in May, to The National NeedleArts Association's Summer Market in Indianapolis! Ask your yarn store to check with us about the newest offering from Fix-A-Stitch.
At the recent The National NeedleArts Association (TNNA) show in San Diego, we had the good fortune to be exhibitor neighbors with Jay and Joanna Reyes, the proprietors of Chic-a.
According to their website, "Chic-a was founded in 2007, when Joanna Reyes realized there had to be a better solution to storing ongoing knitting and crochet projects. Ziploc bags kept breaking, and the designs of existing bags were impractical for knitting and crochet. What she wanted was a knitting project bag that would last for many projects, would be practical, and yet be fun to carry around. Using her many years of sewing experience she designed and crafted the Quick Draw Project Bag. The immediate popularity of this bag confirmed the demand for her fusion of practical and fun. She continued to develop products to meet this demand, and out of this, Chic-a was born."
We can attest that they're wonderful people with wonderful products. Their bags can hold your latest yarn projects — and, of course, your Fix-A-Stitch sets!
Here they are setting up the booth.
Doesn't it look wonderful? So nice of them to incorporate the Fix-A-Stitch pink (I guess it's Chic-a pink, too)!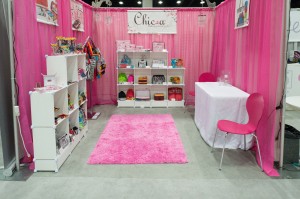 Some bags on display.