The short answer is NO. There is some crochet, but mostly I saw beautiful hand embroidery:
 I believe that yarn is inaccessible to the people there, and since it is quite warm, there is not much desire for knitted items in other than lightweight cottons.
Based on the tools that I saw in the fields — primitive by our standards  — if knitting were in practice, one assumes it would be accomplished on hand-carved needles. I'm curious to find out, however, if other knitters know differently. If so, please share with us!
At the recent The National NeedleArts Association (TNNA) show in San Diego, we had the good fortune to be exhibitor neighbors with Jay and Joanna Reyes, the proprietors of Chic-a.
According to their website, "Chic-a was founded in 2007, when Joanna Reyes realized there had to be a better solution to storing ongoing knitting and crochet projects. Ziploc bags kept breaking, and the designs of existing bags were impractical for knitting and crochet. What she wanted was a knitting project bag that would last for many projects, would be practical, and yet be fun to carry around. Using her many years of sewing experience she designed and crafted the Quick Draw Project Bag. The immediate popularity of this bag confirmed the demand for her fusion of practical and fun. She continued to develop products to meet this demand, and out of this, Chic-a was born."
We can attest that they're wonderful people with wonderful products. Their bags can hold your latest yarn projects — and, of course, your Fix-A-Stitch sets!
Here they are setting up the booth.
Doesn't it look wonderful? So nice of them to incorporate the Fix-A-Stitch pink (I guess it's Chic-a pink, too)!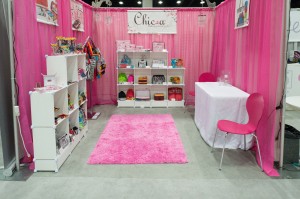 Some bags on display.